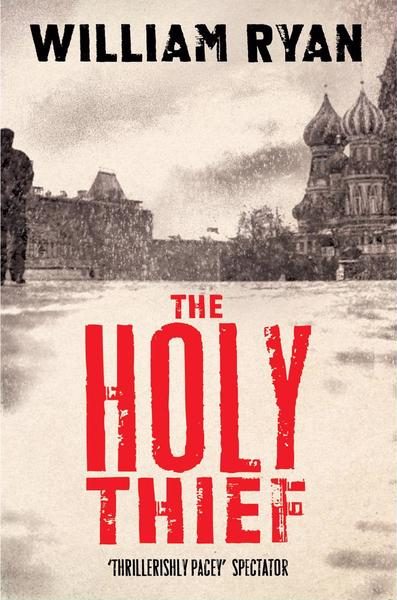 Moscow, 1936 and Stalin's Great Terror is beginning. In a deconsecrated Church, a young woman is found dead, her mutilated body displayed on the altar for all to see.
Captain Alexei Korolev of the Criminal Investigation Division of the Moscow Militia, is asked to investigate. But when he discovers that the victim is an American citizen, the NKVD – the most feared organisation in Russia – becomes involved.
As more bodies are discovered and the pressure from above builds, Korolev begins to question who he can trust; and who, in this Russia where fear, uncertainty and hunger prevails, are the real criminals. Soon, Korolev will find not only his moral and political ideals threatened, but also his life . . .
Click here to download the first chapter.
Shortlisted for The Theakstons Crime Novel of the Year, The CWA's New Blood Dagger. The Kerry Group Irish Fiction Award and The Barry Award for Best First Novel (US).
Reviews
Ryan's stately style belies the page-turning quality of the novel
The Irish Times
https://www.irishtimes.com/culture/books/watching-the-detectives-1.671821
Ryan writes with narrative drive and urgency, a good sense of place and a central character who is conflicted, moral and above all likeable: whodunnit heaven.
Times Literary Supplement
Ryan can really write — an elegant, evocative English that savours each scene while propelling the action unerringly onwards … there's much to admire and absorb in this excellent and exciting first novel.
Irish Independent
https://www.independent.ie/lifestyle/back-in-the-ussr-26659899.html
Impressive…. Ryan, who merits comparison to Tom Rob Smith, makes palpable the perpetual state of fear of being reported as disloyal, besides dramatizing the difficulty of being an honest cop in a repressive police state. Readers will hope Korolev has a long career ahead of him.
Publishers Weekly (starred review)
https://www.publishersweekly.com/978-0-312-58645-4
Such details make The Holy Thief … one of the year's most exciting mysteries
Sun Sentinel
http://articles.sun-sentinel.com/2010-09-26/entertainment/fl-bk-holy-thief-092610-20100926_1_soviet-journalist-moscow-church-politics
A feisty detective novel, it's atmospheric, beautifully written and meticulously researched.
Irish Examiner
https://www.irishexaminer.com/viewpoints/books/long-road-to-russia-122205.html
The mystery at the heart of The Holy Thief is intriguing … but it is Ryan's details of life in the bad old USSR that make the story so engrossing.
Irish Times
https://www.irishtimes.com/culture/books/digging-into-russia-s-dark-past-1.579926
It's a tough, suspenseful premise for a debut, contrasting claustrophobic atmosphere with personal optimism in a way that can only intensify as the series continues.
Financial Times
https://www.ft.com/content/a888c8a8-645e-11df-8cba-00144feab49a
Set in a vividly imagined Stalinist Russia, where the creeping paranoia of a surveillance state blends perfectly with the brutal serial murders
Metro (Crime Book of the Year)
https://metro.co.uk/2010/12/08/crime-books-of-the-year-2010-602555/
Ryan's novel has an authority that belies his first-novel status… Ryan demonstrates considerable skill in evoking this benighted period, along with a deftness at ringing the changes on familiar crime plotting moves.The auguries for a series, of which The Holy Thief is the first book, are very promising indeed.
Daily Express
https://www.express.co.uk/entertainment/books/174946/The-Holy-Thief-William-Ryan
impressive debut.
Saturday Times Review
https://www.thetimes.co.uk/article/new-crime-books-spvsxpcb88d
Excellently-observed characters who exist in a nightmarish world of fear, suspicion and danger. Ryan skillfully captures the reality of life in the most spied-upon society in history…The Holy Thief is an impressive debut from Ryan. It pulls off the difficult task of laying down ample foundations for a scheduled subsequent series without burdening its narrative drive with excessive back-story detail. I look forward to Captain Korolev's further exploits under the cold gaze of Comrade Stalin.
Yorkshire Evening Post
https://www.yorkshireeveningpost.co.uk/lifestyle/books/shadow-of-stalin-1-2244915
Fans of Phillip Kerr, Tom Rob Smith, and Olen Steinhauer have a treat in store with this strong period thriller from British debut author Ryan . . .A series to watch very closely
Book List
https://ums-ae.stacksdiscovery.com/eds/detail?db=asn&an=54293444&isbn=9780312586454
A first novel written with all the narrative assurance of someone who'd been perfecting his art for years. A thriller set amid the paranoia of 1930s Moscow, it was persuasive in all its local and historical details, told its tense story with style and aplomb and had an engagingly troubled hero
Books of the year, Irish Independent
Remarkable thriller . . . In his solitude and resolve, Ryan's Korolev evokes Martin Cruz Smith's fierce Arkady Renko, while the period detail and gore call to mind Tom Rob Smith
Library Journal
https://ums-ae.stacksdiscovery.com/eds/detail?db=asn&an=54293444&isbn=9780312586454
Ryan's research, and the genuine feel he has for the unique place and time, made The Holy Thief an especially good read.
Ellery Queen Magazine
Ryan brings the pain, hunger and poverty of the people to life, adding the mystery of murder to the mayhem.
Politics, jealousy, love and money: potent ingredients for a potboiler with a twist.
Bournemouth Echo
http://www.bournemouthecho.co.uk/news/8370444.The_Holy_Thief__William_Ryan____/
While THE HOLY THIEF is a dark book, Ryan peppers the narrative with some grim humor to keep things from becoming too stark. The star of the novel, however, is the plot, which provides a plausible, surefooted explanation for the motive behind the murders. And while Korolev is a capable protagonist, there is an unforgettable supporting cast as well, one member of whom provides an unexpectedly upbeat conclusion with the promise of more, hopefully to be seen in future successors to this work.
Book Reporter
https://www.bookreporter.com/reviews/the-holy-thief
Ryan captures the pervasive fear of Stalin's reign, where even a joke amongst friends can lead to denunciation and exile to the 'Zone … An impressive debut.
Historical Novel Society (Editor's Choice)
https://historicalnovelsociety.org/reviews/the-holy-thief/